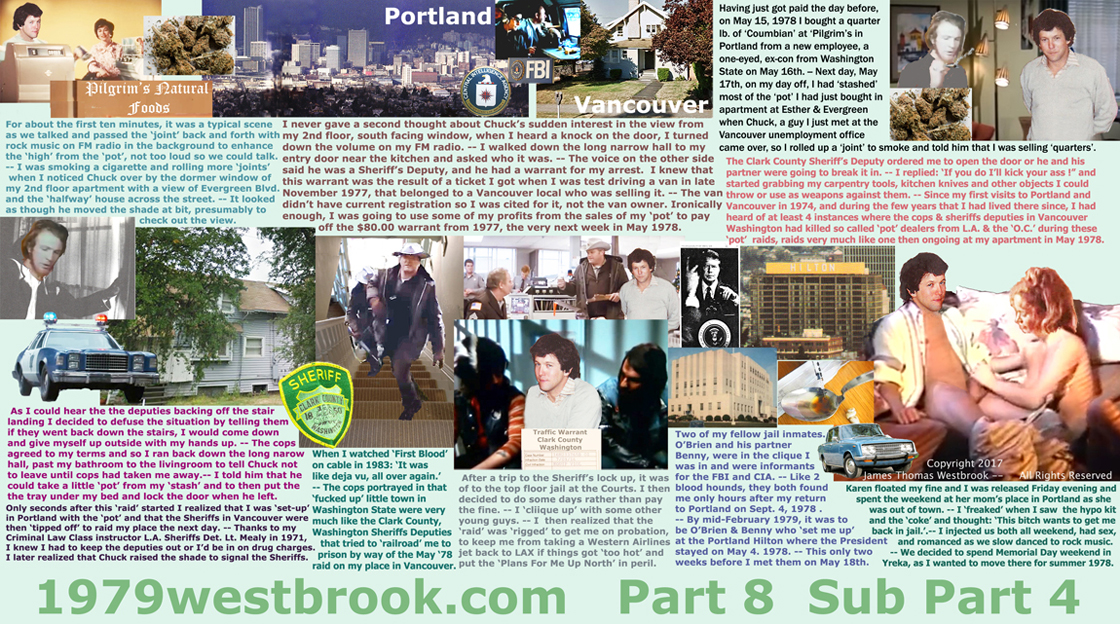 //////////////////////////////////////////////////////////////////////////////////////////////////
Copyright 2001 - 2020 James Thomas Westbrook --- All Rights Reserved --- The author exercises any and all rights of exclusivity he is lawfully entitled to pursuant U.S. Copyright Law as a literary property. --- "1979" is a copyrighted non-fiction book technically speaking, and was first registered with the U.S. Copyright Office on December 31st 2001. ---- The author also exercises any and all copyright protection he is entitled to as a graphic artist,regarding the copyrighted photo art montages included thereon each and every one of the title pages of Parts 1 through 13 as well as the various Sub-Parts contained in Parts 1 through 13 of "1979". This also applies to the Epilogue to it. --- Any and all inquiries regarding "1979"/1979westbrook.com may be submitted to me by e-mail at: 79westbrook@protonmail.com or Westbrook79@Yandex.Com




Part 8 -- Sub Part 4
"1979" / 1979westbrook.com

Part 8 Sub Pt 4
-- This were things get a bit hairy during that time period from May 15, 1978 -- May 21, 1978 and the elaborately rigged, attempted 'frame up' to 'railroad' me to a Washington prison and a lenghthy parole and my cool headed standoff and manuevers that derailed this railroad to the Washington Pen.-- It's too convoluted and complicated to get into here, so you will just have to go the Sub Part and read about it.